A clever future:
Investing in talent and automation
Drawing on his formidable resume and some 20 years' experience, Misha Shliapnikoff is well-positioned to lead BevChain, Linfox's specialist beverage logistics business in Australia and New Zealand.
Appointed as President BevChain in August 2019, Misha brings more than two decades of supply chain experience in Australia, North America and Asia.
His background includes senior roles at Goodman Fielder and Lion across multiple food and beverage categories, both ambient and temperature-controlled. 
"With the remarkable blend of supply chain experience, FMCG expertise, in-depth knowledge of beverages and demonstrated accomplishments building efficient, customer-focused organisations, Misha is the natural choice to drive BevChain's growth into the future," said CEO Linfox Logistics Australia and New Zealand, Mark Mazurek.
BevChain services major brand owners in the specialised liquor, beer, wine and energy drink categories, including the largest Australian and international brands and retail liquor customers.
After a decade of significant growth, BevChain is increasingly the logistics supplier of choice for blue chip beverage retailers and producers in the dynamic, multi-billion-dollar beverage industry.
"Unlocking real customer value requires sophisticated, best-practice supply chains that transform the way we all do business," said President BevChain, Misha Shliapnikoff.
BevChain: Quenching a thirsty market
Delivering in excess of 2.5 billion serving units annually
25,000 delivery points
22 distribution centres
1,000+ heavy transport and equipment-handling fleet
800+ people
Intermodal/interstate network
Temperature-controlled capability
Transformative automation
On behalf of FMCG giant Lion,
BevChain is working closely with a best-in-class automation provider to re-engineer the customer's adjacent
manufacturing site in Sydney's inner west to be a leading automation game changer. 
"The site was historically a traditional, largely manual warehouse operation, but the location was highly strategic for
our key customer Lion," reflects Misha.
"We often hear about automation being implemented into new, purpose-built greenfield facilities commonly located in outer suburbs, but with the Lion
brewery co-located metres away, we took advantage of the existing site's favourable position."
Rather than embarking on a new build, the current site was best suited for repurpose and modernisation to create a leading-edge, sustainable automation solution.
"We are working closely with Lion
and strategic automation suppliers to implement a new automated pallet storage and picking solution, set to dramatically increase capacity and realise substantial productivity gains," added Misha.
"It's this type of dedicated 'future proof' focus that has gained the extended trust of our customer to make a longterm contract commitment."
In an effective and structured project to minimise operational disruption, BevChain assisted Lion's relocation to interim sites, allowing the automation
equipment construction to shift into full force.
Over 30,000 pallet locations
Automated full pallet storage and retrieval
High volume pallet order movements
20 satellite carts accessing and moving pallets
Roll on/roll off (Roro) docks for efficient loading and unloading from adjacent brewery
Monorail conveyor moves pallets to and from strorage areas
Automated outfeed to staging conveyors
Automated replenishment support for case picking
Smart and sustainable LED lighting customised for working areas and dark machine areas
Features Australian-made components and racking
Storage utilisation increased by 55 per cent in the same building footprint
Increased accuracy and speed of order fulfilment 
Efficient 24/7 customer operation
Enhanced workplace safety
Smooth and controlled process operation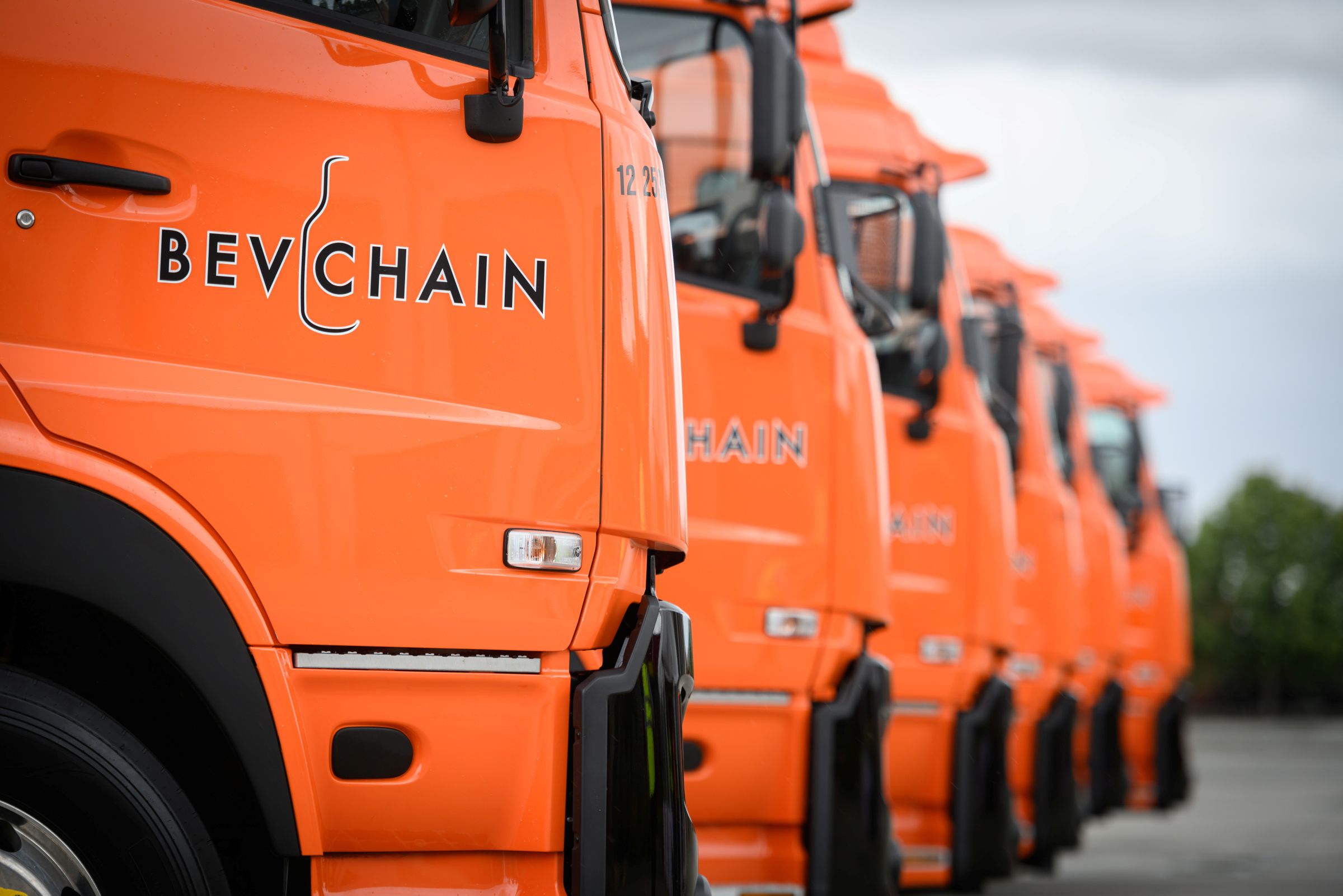 Fleet investment for growth
BevChain is also investing heavily to bolster its already strong fleet to support key contracts. In excess of $34 million in FY20 has been committed to fleet renewal, with an exciting, cutting edge electric vehicle suite due for release during 2020.
This continues Linfox's investment in long-term capability to create customer advantage and build an innovative, sustainable business.