It's elementary
Hydrogen, the lightest and most abundant of all the elements in the universe, could be powering prime movers, ships and trains in the not-too-distant future.
Hydrogen-powered fuel cell electric vehicles (FCEVs) offer greater fuel efficiency than petrol or diesel powered vehicles, and are likely to be competitive on running costs compared with traditional fuel
sources within the decade.
Electric vehicles are also a contender to gradually replace internal combustion engines. Both are advantageous for various transport requirements, and both offer emissions reduction, particularly if the hydrogen extraction and batteries use renewable energy.
AB InBev's US operation, Anheuser-Busch, recently concluded its first zero emissions deliveries hauled by a Nikola prime mover.
Hyundai Motor's HDC-6 NEPTUNE concept
For linehaul tasks, FCEVs may be a better option, with greater mileage and a faster refuelling time than electric vehicles. The 'fuel cell-hydrogen tank-battery' combination in an FCEV is also much lighter than the stand-alone battery in an all-electric vehicle, which offers a payload benefit. For example, a battery-powered 20-tonne truck with a 960-kilometre range would require a 14-tonne battery.
With an FCEV, though, only a bigger tank is required to carry the extra fuel.1
Hydrogen has much to offer in reducing emissions, pollution and business costs. According to the Hydrogen Council2, by 2050 up to 20 million hydrogen fuel-cell trucks could be on the road worldwide. Given their potential advantages in longhaul transport, where will they be and what will they be doing?
National Highway 95 runs from Perth to Port Hedland. About 1,000 trucks travel the route every day, burning up to one litre of diesel and emitting 2.4 kilograms of carbon dioxide per kilometre. The average trip is 750 kilometres.3
Heavy vehicles with hydrogen fuel cells are ideal on a route like this. It's simple and predictable, so fuel stations are only required on the main road. There is also a lot of traffic, so it is worthwhile to set up the infrastructure to meet the demand.
And because it is not a worthwhile proposition for rail, there is no competition from another mode.
The Highway 95 example also illustrates other benefits for fleet owners beyond fuel efficiency. Storing, distributing and pumping hydrogen uses similar technologies as diesel, so there are no barriers there, but hydrogen's low density does increase the costs and complexity.
This barrier has been removed thanks to a recent CSIRO invention, which produces pure hydrogen at point of use by passing decomposing ammonia through a metal filter. Storing and transporting ammonia is far easier than hydrogen, reducing the costs of storage and distribution.
Thanks to this mix of opportunity, incremental transition and critical innovation, hydrogen fuel cell trucks are now a commercial proposition, seriously considered for use here in Australia, as well as in Germany, Japan, China and South Korea. In Germany, a regional train operator in Lower Saxony has worked with French manufacturer Alstom to trial the company's Coradia iLint hydrogen powered trainset, with a top speed of 140 kilometres per hour and a range of up to 800 kilometres.4
The Nikola Motor Company's hydrogen-powered 'Nikola Two' series.
In the United States, Nikola is leading the international field in commercialising hydrogen fuel cells for heavy-duty, longhaul trucks. Interestingly, their business model doesn't involve selling the trucks but leasing them for seven years. Customers will have use of the vehicle, fuel and maintenance over that period at a fixed price, providing certainty around business costs.
Nikola is also looking at the whole value chain, rolling out fuelling stations with major fleet customers, starting at their depots and heading out along their major routes. These stations will be able to produce hydrogen, using solar energy, and refuel 250 trucks a day.
Other heavy truck market players include Toyota and Kenworth, who will deploy ten jointly developed heavy duty trucks in the ports of Los Angeles by the end of 2019.

Even more recently, Hyundai unveiled its HDC-6 Neptune hydrogen fuel cell truck concept, which they say will be the equal of their diesel counterparts. Volvo is also talking seriously about its potential. Various countries around the world are also hot spots for trials and innovation, driven by local concerns: Japan's desire to reduce its dependency on nuclear energy, for example.
What about locally? Professor David McInnes, President Research, Autonomous Transport Solutions at Deakin University, says, "hydrogen fuel cell powertrains provide significant range, weight and space advantages over battery alternatives for heavy vehicles with virtually zero greenhouse gas vehicle emissions."
Emissions matter. Reducing them will push the industry through a lot of change, fast. Fortunately, current truck design can evolve without radical design changes allowing services to continue with minimal disruption on this front, as Professor McInnes further notes.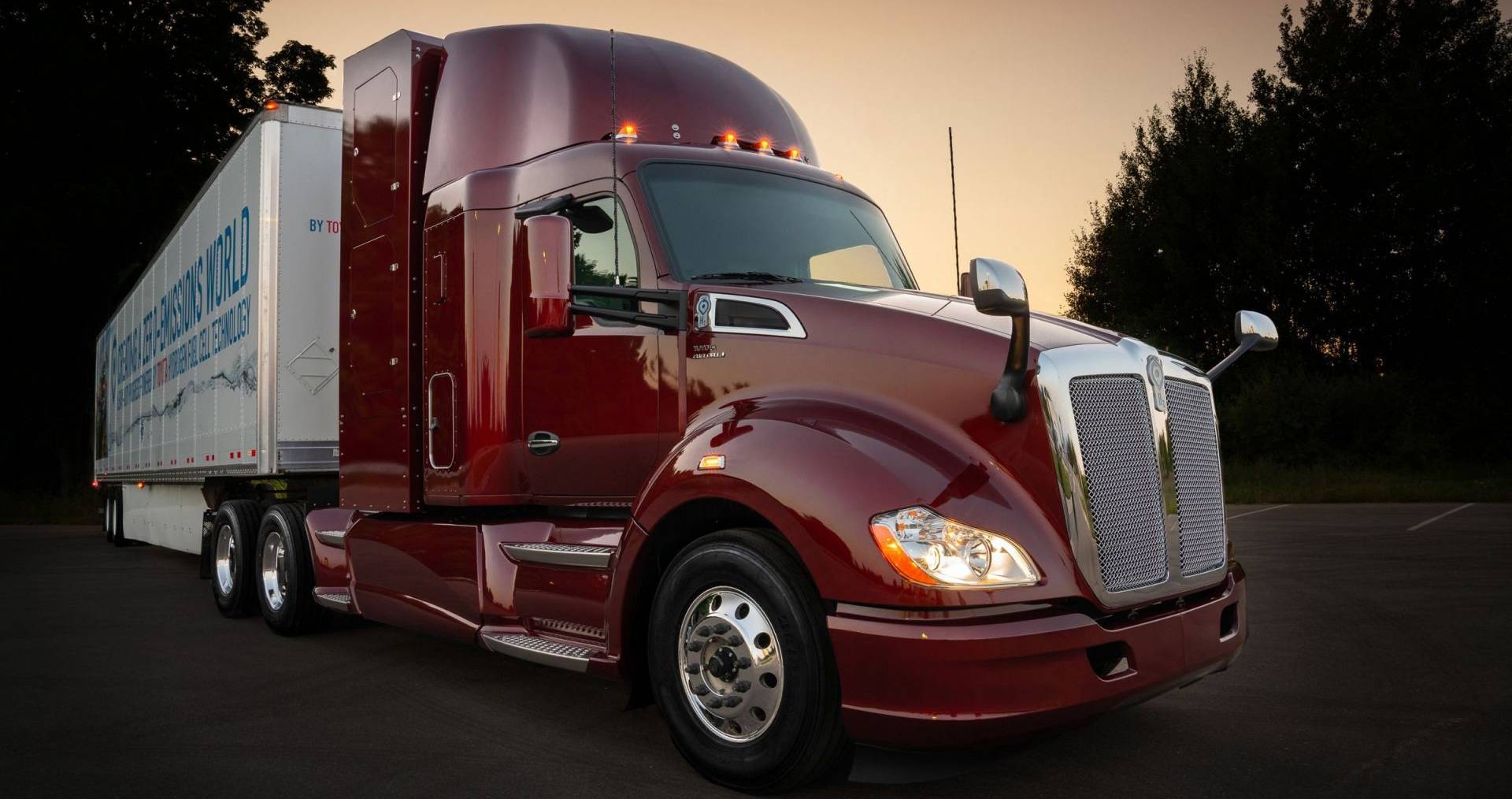 Kenworth and Toyota are building a fleet powered by hydrogen fuel-cell electric powertrains.
Disruption is inevitable though and will spread widely through the energy system with implications for supply chains, which means a strategy is required.
Australia's Chief Scientist, Alan Finkel, is a long-time hydrogen advocate who argues that Australia could build a clean, innovative and competitive industry and export energy to markets in Asia. The recently delivered National Hydrogen
Strategy is about positioning Australia to do exactly that5.
In the meantime, a pilot plant in the Latrobe Valley in Victoria is starting to produce hydrogen and export it to Japan. The pilot will test the supply chain from the gasification of brown coal at the plant in the Latrobe Valley, through to unloading and storing liquid hydrogen in Japan.
The transition to net-zero emissions is generating exciting opportunities, new business models, efficiencies and other
benefits. Hydrogen will, no doubt, be a fuel of the future for the logistics industry, but it is equally clear that electric vehicles will have a place too for certain tasks.
Whatever the transport mix, Linfox will work closely with manufacturers to ensure it continues to deliver for customers on time, safely, cost effectively and sustainably, well into the future.

Hydrogen for Australia's Future, Commonwealth of Australia, 2018.
https://www.mckinsey.com/industries/automotive-and-assembly/our-insights/hydrogen-the-next-wave-for-electric-vehicles; accessed 27 November 2019
https://treasury.gov.au/sites/default/files/2019-03/360985-InfraNomics-supporting-document.pdf, accessed 27 November 2019
https://www.dw.com/en/worlds-first-hydrogen-train-rolls-out-in-germany/a-45525062; accessed 27 November 2019
https://www.industry.gov.au/data-and-publications/australias-national-hydrogen-strategy; accessed 27 November 2019